Truss type welded mesh is a kind of welded wire units with side rods to combine a block work fixed with concrete or bricks. It is used for increasing elasticity and performance of masonry construction of vertical wall work under various stresses. Mortar is filled in underneath the joint welded structure to form the block cell. This structure unit allows continuous deformation along each longitudinal rod for superior bonding performance.
Truss mesh is made by welding of wires/bars ranging from 2.5mm to 6mm into deformed truss forms. Also called ladder mesh as it has a similar shape of ladders. Welded wire sheet with wire diameter of 3.7mm is popularly used in reinforcing.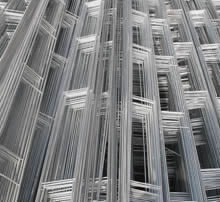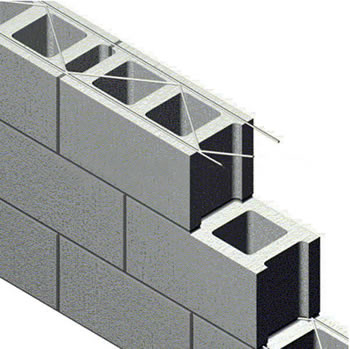 Processing:
The cross bars or rods are spaced so block cells are not obstructed, allowing easy placement of vertical rebar. The cross wire and vertical bar are welded into a deformed truss or ladder shape.
Where is Truss Mesh Used:
1, Using of truss type welded wire reinforcement mesh can greatly reduces cracking that can arise from thermal stresses. This enhances resistance to water penetration, as cracks are controlled.
2, To increases lateral flexural strength.
3, To bond exterior and interior masonry together in composite or cavity walls. Also used to bond masonry at intersecting walls and corners.
Features:
Made of butt-welding of cross rods to longitudinal rods (not more than 16mm), this construction enhances bonding capabilities, eliminates projection of cross rods beyond the specified width of reinforcement, and prevents excessive build up of wire in limited mortar joints.
Specifications:
Wire diameter: 3mm-8mm
Materials: galvanized steel wire/galvanized iron wire or others

Size details: Normally 3 meters long, the space distance is 40cm, and with different
Width 5cm, 10cm, 15cm, 20cm.

We can produce around 5000 pieces per day, with best quality zinc coating - around
400GSM for welded after hot dipped galvanized type.

Packing: Every 20 pieces per carton box, one 40 feet container can loading around 22, 000 pieces ( 1100 boxes), more photos about the products and the packing is
Available.

Popular size for export:
Truss type welded wire units: 3.7mm with side rods 100mm width x 3 m length
Truss type welded wire units: 3.7mm with side rods 100mm width x3m length
Minimum quantity: 1000 pcs each