Fold Flat Welded Dog Cages made of heavy gauge wire offer an effective way to house train puppies or keep your pets safe and secure when in or away from home. All cages feature a high quality electro plated finish which ensures they are rust resistant and easy to clean.
Our cage comes with a choice of electro galvanizing, zinc coating or hard epoxy powder coating in a choice of black or blue. When not in use, the cage folds suitcase style for easy transport or storage. Our dog cages are manufactured in five different sizes available to accommodate all dog breeds and other pets. Our cage comes with a strong plastic base with no sharp edges, also with two doors for ease of use and carrying handle.
The folding flat design of the dog cages makes them very easy to assemble and means you can instantly fold the cage for storage, without the use of tools.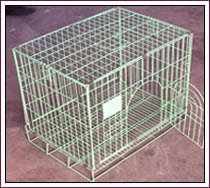 Large Dog Cage Description
Features:
a) Dimensions: 48 x 30 x 32"
b) Finish: Electro plated, zinc plated or powder coated
c) With a plastic tray and a plastic handle
d) Weight: 33lbs
Outer packing:
Carton dimensions: 48 x 30.5 x 3.5"