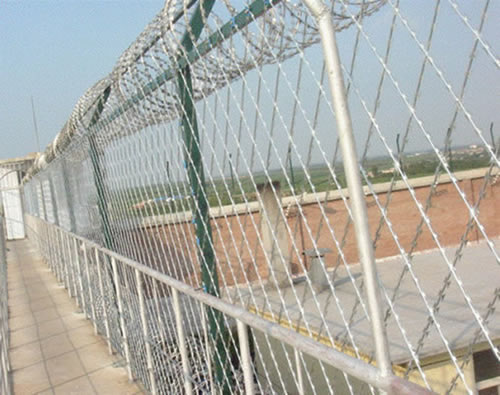 Bright Hot Dipped Welded Razor Wire Mesh High Security Fence with Concertina Toppings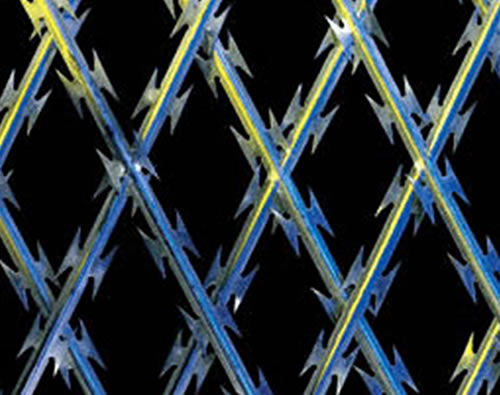 Welded Razor Mesh Panels with 55 x 200 mm Diamond Distancece
Metech razor wire welded mesh panel fencing system consists razor wire mesh, box profile fencing pole and door or gates. All parts and installation tools can be supplied. The welded razor mesh panels can be electro galvanized or hot dipped galvanized.
WELDED RAZOR WIRED MESH PANEL SYSTEM:
a- RAZOR WIRE PANEL:
Welded razor wire mesh is the base material for this high security fencing system. It is made with galvanized or stainless steel razor wire welded together to form a flat surface panel. The razor blade will effectively stop intruders from entering. Welded razor wire sheet or panel is used for high grade security fencing of airports, military bases, water substation, the border fence, oil depots, factories, residences, prisons and so on.
Common Razor Height: 1.2, 1.8, 2.1 and 2.4 meters
Razor mesh welded panels/sheets have the following benefits compared with traditional chain link or welded wire fencing:
First, It is extremely anti-climbing;
Second, The razor panel has high-strength steel core very difficult to cut off;
Third, Powerful security fencing;
Fourth, the blade has frightening effect;
Fifth, Simple to install and fixing. Save labor and cost.
Razor wire can be supplied in a variety of sizes. Following is the example description of razor wire panel for purchase reference.
The common panel height is 1,93 m or custom size. The razor wire applied has 55 x 200 mm Interocular Distance, 2,50 ľ 2,00 m Length, on the panel 100 (▒ 5,00) mm at intervals 3 row.
Razor length 24 (▒ 1,00) mm, between razor- shaft 40 (▒ 1,00) mm. The finish is hot dip galvanised razor wire welded.
The razor has a O 4,50 (▒ 0,20) mm thickness, 3 twisted, a surface treatment of áRAL 9010 white colour over Hot Dip Galvanised or electrostatic polyester painted.
b- BOX PROFILE POLE FOR FIXING RAZOR WIRE PANELS:
- H=1,97 m height, 150x150x6,00 mm sheet metal flaged and steel dowelled box profiles (suitable for concrete montage)
- Plastic cap nut,
- 4 pieces metal clips for each pole
- Electrostatic polyester painted, RAL 9010 White colored over Hot Dip Galvanized poles.
C. THE FENCING SYSTEM SHALL INCLUDE L: 1,00 MT x H: 1,97 M SINGLE LEAF DOOR MOUNTED WITH ABOVE WELDED WIRED PANELS:
- Door case from Profile and King Post,
- Panel montage will be built over Door King Post
- Flanged and Steel Dowelled suitable for concrete base montage
- Her kanatta 2 adet ÷zel mente║eli, with 2 pieces special joint for each leaf
- Welded razor wire mesh panel will be mounted to new built iron construction.
- Door will be open to outside
- Painted in RAL 9010 white over galvanise.
Welded Razor Panel Sets Composition: Custom size available.
NO
Material
Pcs
Unit
1
L:2,50X1,93 M RAL9010 Razor Mesh Panel
2
EA
2
L:2,00X1,93 M RAL9010 Razor Mesh Panel
9
3
H:1,97M - 50X50X1,50MM Pole
10
4
150X100X5MM - Flange
10
5
Dowel M10X85
40
6
Clips
48
7
Plastic Cover
10
8
1M X 2M Service Door
1