Hot Dipped Galvanized Temporary Fence Barriers, with Frame and Feet Bases
General Introduction and Structures:
Welded steel temporary fences are mostly used at for safety of pedestrian traffic in Construction Sites and Road Works. Also used for public events, sports, festivals, gathering and other safety barrier uses for tree guards or plant guards. Made of hot dipped galvanized steel welded mesh panels GAW ( galvanized after welded) processing. The structures are commonly framed steel panels welded with steel wire or tubes. Fitted with feet of different styles including flat feet, bridge feet and cross feet for options. The welding is firm and resistant to alkaline and acid and weathering with GAW treatment and hot dipped zinc coating. The panels with feet bases are light weight and portable for uses. Also called crowd control barrier or portable fencing. Surface treatment can be galvanized or powder PVC coated galvanized.
Materials for Crowd control Temporary barrier or Two Major Types of Welded Control Barriers:
Type One: Welded Wire Mesh Panels: Galvanized steel wire mesh welded or powder coated galvanized;
Type Two: Welded Tube Panels with Infill Pickets: Galvanized steel tubes, welded and painted or Powder coated; or Black pipe, hot dip galvanized after welding. or Powder coated after welding.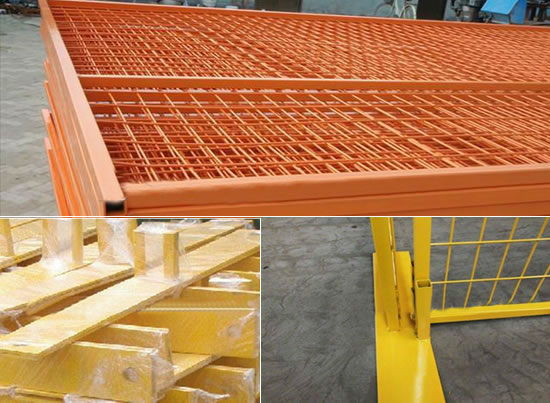 Three different types feet bases of crowd control barrier: Flat, bridge or cross.
Traditional bridge bases are designed for barriers of sloping areas:
Each steel barrier has one large base and one small base, located at the ends of the frame. This allows for four points of the base to remain in constant contact with the ground, as well as accommodating placement of steel barriers in both a straight line at various angles.
Flat feet is for flat surface area.
Cross feet is easy to maintain steady with using of fixing accessories.
Designs and Benefits of Welded Tubular or Mesh Fencing Panels for Crowd Control:
This mobile barrier panels are designed with following features:

The fencing panels are hand welded for strength;
Hot dipped galvanised coating for long service time - MIN 42 microns per square meters and each barrier is completely dipped in a gal bath after manufacture. This ensures that they will be far more weather resistant and durable, and will last much longer than other crowd barriers on the market;
Sturdy lightweight frames stackable or mobile. The barriers are light and easy to handle, while being strong and robust at the same time;
Easy interlocking system for fast installation;
Removable/locking feet for stacking and storing ease: The metal panel feet are removable which makes transportation and storage much easier and more efficient;
We also offer flat foot design for avoiding trip hazards;
The crowd control temporary fence is flexible and portable;
Ground footplates and top clamps to ensure stability and security;
Panels use middle support brace ensuring a strong, secure and stable panel;
Color available in silver, orange, blue, red, green, black and more to fit the surrounding areas.
Sizes of Welded Barriers for Crowd Control Made of Steel Pipes /Tubes:
Fence Panel Size: 1100x2100mm, 1100x2200mm, 1100x2250mm
Steel Tubular Frame: 20mm, 25mm, 32mm, 40mm, 42mm & 48mmO. D
Infill Picket: 12mm, 14mm, 16mm, 20mm & 25mm O. D
Spacing: 60mm, 100mm, 190mm & 200mm
Different specifications are available according to customers' special inquiry or detailed drawings.
Sizes of Temporary Fencing Panels Made of Welded Steel Wire Mesh:
Mesh Panels: Height X Length: 6ft x10ft, 6ftx9 ft, 6ft x8ft
Mesh: 75x150mm, 50x150mm, 50x200mm
Frame Tube size: 20x20mm, 25x25mm, 30 x 30mm
Wire diameter: 3.0-6.0mm
Color: Yellow, Green, Blue, Red etc.
4 Types Surface treatments for Both Welded Wire or Welded Tubes:
1>Electric-galvanized
2>Hot-dipped galvanized
3>Black + PVC coated / Powder coated
4>Galvanized + PVC coated / Powder coated

Applications: 
The framed steel portable mesh panels are mainly used for construction site temporary fencing and private property fencing, for major public events, sports, concerts, festivals, gatherings, swimming pools, tree guards, plant guards and other safety barrier usages.