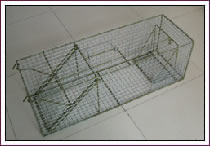 Our live animal trap of galvanized welded wire mesh offers safely capture troublesome pests without injury.

As manufacturer and supplier of live cage traps, we offer cages including raccoon traps, squirrel traps, chipmunk traps, cat traps, skunk traps, coyote traps, fox traps, mink traps, bobcat traps and mouse traps.
We can manufacture live animal traps as per customers' designs and requirements. The traps are made by metal wire and sheet, the finish coating include electro-galvanized, hot dipped, powder coated etc, the coating types are depend on clients' preference. We can produce as per customers' designs and samples.
RANGER RACCOON TRAPS
For Trapping Raccoons:
The Raccoon professional cage trap is very durable.
Sizes and description:
30" x 12" x 11". Galvanized wire mesh, steel reinforcements. Professional model, one spring-loaded door.
Cage Trap Features:
1) Durable
2) Powder coated for longer life
3) Gravity action door with spring loaded latch
4) Double meshed around bait area to prevent tripping from outside the trap
5) Shielded handle for safe moving of trap
6) Easy to bait, set and release
7) Pre-assembled and ready to use
Varieties of Live Animal Cage Traps:
Footpalte Cage Trap available in 12"X4.8"X4.8", 14.4"X5.4"X5.4", 16"X6"X6", 17.6"X6.6"X6.6", 19.2"X7.2"X7.2". Made of Iron wire. Finishes: Galvanized
Single Door Cage Trap available in 18"X6 "X6", 27"X9"X9", 36"X12 "X12", 54"X18"X18", 72"X24"X24". Made of Iron wire Galvanized.
Pothook Cage Trap available in 11"X4"X4", 11"X6"X6", 22"X8"X8", 33"X14"X14", 33"X28"X28". Made of Iron wire Galvanized.
Application:
For trapping of various animals including dog, cat, raccoon, mouse, rats, squirrels, pigeons, foxes and other live animals.