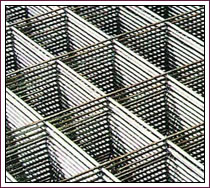 Reinforced Welded Mesh Panels are made of galvanized welded wire mesh for constructional uses.

Reinforcement Mesh Panels are popularly used in the following fields:
Block slabs reinforcement
Hollowed slabs reinforcement
Building walls reinforcement
Support walls
Tunnels Reinforcement
Road Reinforcement
Dumps
Silos
Ground paving
Swimming pools
Features:
Economic transport
Ease and economy of storage space
Reduction of implementation time (high application performance)
Installation does not require skilled labour
Quality ensured by the implementation in factory
Reduction of waste and failings
Reinforcement Mesh Panel Sizes:
In panels: Nominal length 5, 6, or 7 metres - Width 2.4 metres.
Opening Types of the Mesh:Square Opening Mesh Panels;Rectangular Opening Mesh Panels.
We also offer welded mesh panels for wall structure:
The meshes for wall structures shall be calculated by the project designer in accordance with the table for rectangular meshes.